Geen resultaten gevonden voor de filter!
Sony On-Ear Bt Headphone WHCH510L.CE7 Blue
Luister de hele dag door naar je muziek zonder onderbrekingen. De WH-CH510 is draadloos, licht in gewicht en heeft een batterijduur die lang genoeg is om je bij te houden. Dankzij de draaibare oorschelpen kun je je hoofdtelefoon overal...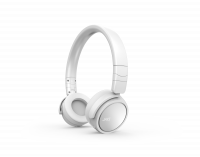 Jays On-Ear Bluetooth Headphone x-Five Wireless White
Het maakt niet uit of je op school of op je werk bent of op weg naar je vrienden, de x-Five is ontworpen om in elk deel van je dag te passen. De x-Five Wireless heeft een batterijduur van 20 uur en is opvouwbaar. Zo kun je hem...